Due to large highjacking on a FS thread, I've decided to move the party over here!

First off!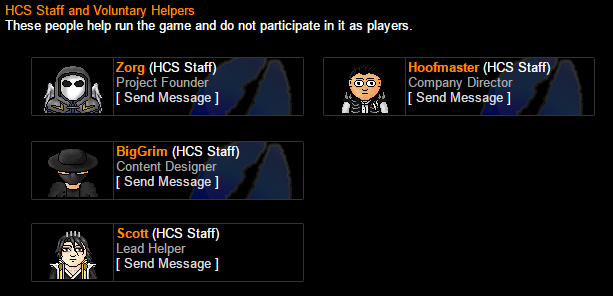 Why are any HCS staff on this list? They do not log into legacy, they certainly don't create content for it as well despite what it says here.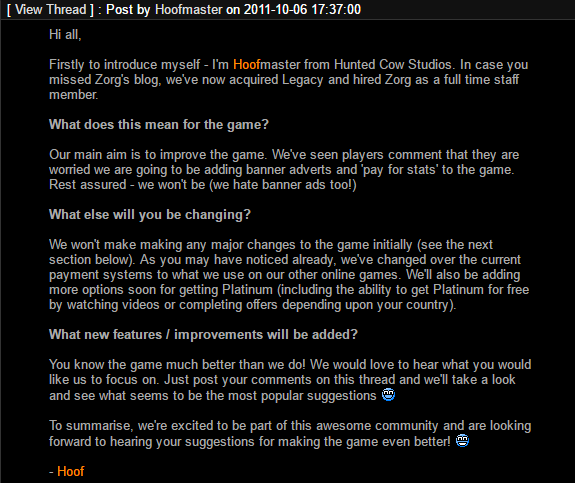 Why was this original post 5 years ago even made? I don't think it was anyone's intention to actually work on the game other than Zorg. Hoof and Grim are terrific people, but got caught in the middle of something that they [probably] didn't even want to work on!



Major fixes of the last 2 years. Minor additions, greatly appreciated. Very little work needed for these things. Other updates involve a new NPC boss and new weapons (literally copy/paste code, change name and stats). The biggest update was hands-down the crystal system being changed. COMPLETELY revolutionized the game, everyone loved it!
What I'm trying to get at is that you can literally make the same content and stamp different pictures and numbers on it and the community would be THRILLED! It takes virtually no time to do and everyone is happy. In my eyes, there are 2 options you guys can go down to keep us happy:

1.) Make some sort of crowdfunding system to get updates added to the game. If we had thisyou guys would make more money and we would get the small updates we desire.
2.) Allow some of Legacy's playerbase who are handy with code and graphics to make the content for you! This benefits you because you will make more money engaged players, and you don't even have to do anything!
If there is a viable reason those options don't work, tell us why!
Now, a list of contributions from Grim and Hoof:
Hoof - 1 forum post.
Grim - 0 forum posts.
All this buyout has done to Legacy is provided a few forced updates and a different bank account for platinum purchases to go to.
This was Zorg's baby, and now its a repressed recurring nightmare sparked from mistreatment and I don't blame Zorg one bit.
And to finish things off, I did not make this a ticket as I know it would either be ignored or would be followed by a less than 1 paragraph response shooting me down.

Thanks for your time,
Matt
Edited by Matty, 17 August 2016 - 21:02.