Hello everyone!
I'm here to present the roadmap for July-October 2022!
As always, roadmaps are a guideline and everything is subject to change.
Due to the delay of the last update caused by unforeseen circumstances, some things may have been shuffled or pushed back as needed, so we apologise for any inconvenience caused.
In addition to this, we hope to bring the new Guild Achievements to you very soon! I'll give you a little sneak peak of the names of the new achievements:
Reign of Fire
Open Season
School of Rock
It ain't easy being green
Gone Fishing!
Even Stronger Together
Alakazam
Donated to the Piggy
Golden Idol
Fatality!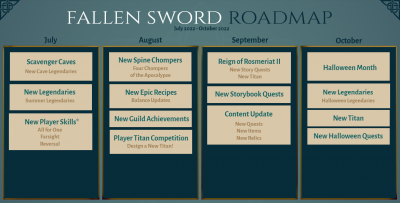 *in regards to new Player Skills, we will open a forum post a few weeks before the expected release to allow player feedback.
All feedback is welcome



Happy Hunting!