We would like to present the roadmap for November 2023 - February 2024!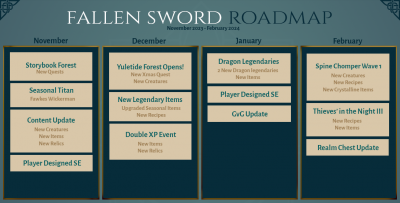 As always, roadmaps are a guide and subject to change.
As we head to the end of 2023 (eek, so soon?), we've got new seasonal content coming your way. For the start of next year, we would like to focus on updating the Realm Chests, and to bring about the GvG update that you have been waiting for.
We were planning to get it rolled out before the end of 2023, but decided that in order to tend to a number of other important updates, and to get Hoof all caught up with his return, we will aim for the beginning of 2024 and to give the playerbase time to prepare for the changes.
We appreciate everyone who has given us feedback over this year. As always, feel free to share your thoughts and concerns below.
~ Fallen Sword Team