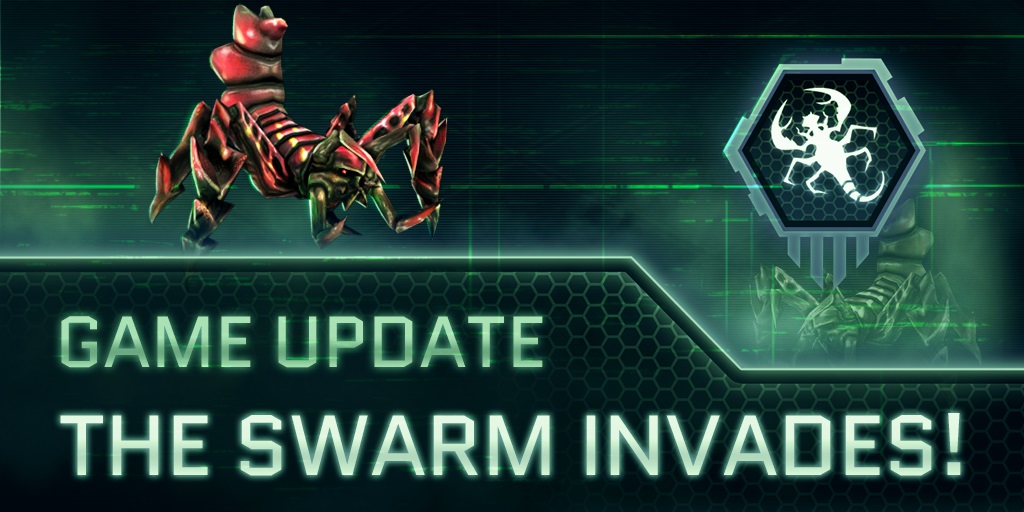 Game Update 1.96 - The Swarm Invades is due to release next week! Below are the current patch notes.
Patch Notes:
The experience gained from energy usage when attacking Invaders is now shown in the relevant notification.
Heroes will now continue to regenerate energy when out on deployment.
Stim-Packs have been added to various in-app purchases.
New Challenges have been added to the game, many of these challenges include new types of rewards and the sustained challenges include varied leaderboard rewards.
3 new flash challenges (Alliance Defeat Invaders, Alliance Destroy Outposts and Alliance Defeat Aliens)
3 new challenges (Defeat Invaders, Alliance Defeat Invaders, Alliance Defeat Aliens)
3 new Sustained challenges (Gain Resources, Defeat Units, Defeat Invaders)
A new Swarm event has been added which when run will bring level 6, 7 and 8 Toxic Bugs to the map which feature a new loot chest with increased rewards.
10 new leaderboards have been added.
Alien Sectors Defeated
Enemy Units Destroyed
Enemy Unit Power Destroyed
Victory Defeat Ratio
Combat Victories
Invaders Defeated
Platinum Awards
Resources Gathered
Items Crafted
Hero XP
The auto-translation system has been changed to require players to click if they wish the chat text to be translated.
Further game stability improvements and performance improvements.
~The New Earth Team