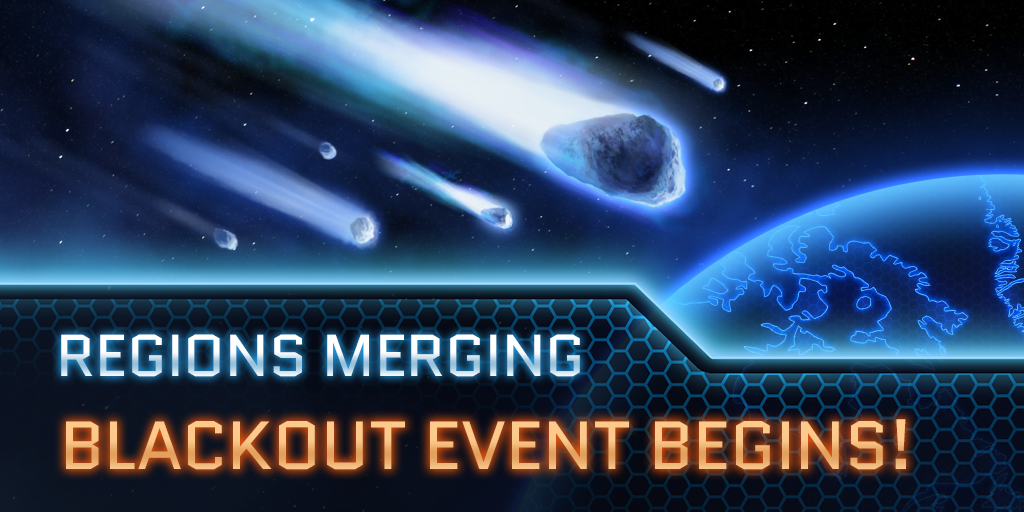 Greetings Commanders. We'll soon be merging the following regions:
Alpha 1
Bravo 1
Gamma 1
Delta 1
Zeta 1
As a result, these regions are now entering a special Blackout Event, which will last one week. When the Blackout Event ends on 6th of November, all players in these regions will be granted a Relocation Facility item which will let them now move to a new region which we will announce next week.
The Rewards for the Blackout event will be based on the Territory Leaderboard positions at the end of the event:
Rank 1 - 2,000,000 Alliance Currency
Rank 2-10 - 500,000 Alliance Currency
Rank 11-25 - 250,000 Alliance Currency
Rank 26-50 - 100,000 Alliance Currency
Rank 51-100 - 50,000 Alliance Currency
FAQ Text
1. What happens if I don't transfer before the region shuts down?
You'll be transferred automatically to a randomly selected sector in the new region. You'll also receive MOVs to replace any lost outposts.
2. Will my Alliance be disbanded?
No. Because your whole Alliance is moving to the same region, you will keep your Alliance even if members transfer at different times.
3. What happens to my Outposts?
You can't take Outposts with you, but we will grant you a replacement MOV item for every Outpost that you lose.
4. What happens to my Alliance's territory?
Unfortunately, we have no way of moving territory between regions. We appreciate the time you have all invested in capturing sectors. We ran the Blackout Event in order to give some compensation to all Alliance members based on the amount of territory they held at the start of this region's shutdown.
5. What happened to Missile Silos and the Mothership?
All events, Missile Silos, territory capturing and the Mothership have now been deactivated. We recommend you all transfer as soon as possible to rejoin the action!
6. Why are we being merged with another region?
As a region gets older, there's an inevitable build up of inactive Facilities. This new region will feature new level 7-10 resource sectors (including Shard Mines) for the first two weeks. This is the first ever instance of these high-level locations and with new opportunities comes new competition!
We're happy to answer any questions you may have about the upcoming merge in this thread.
~The New Earth Team