Hey guys!
You don't see me too often in this section of the forums, so hello!
Since we reopened after the holidays, Hoofmaster and I have been working hard on the Fallen Sword mobile app and I have some early previews of the main World layout to show you! Though I hope it's obvious, the "art" is all basic placeholder graphics and the final app will look much, much cooler. But this should give you an idea of how we're making Fallen Sword fit into the palm of your hand.
iPhone 5/5s Preview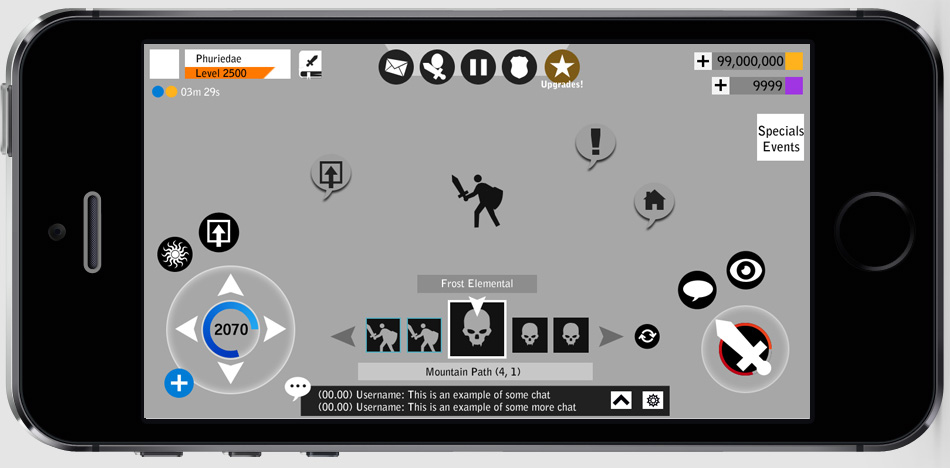 The app will be available for tablets as well, but we're beginning with the phone design so we're sure the game will be fun to play on the smallest screens available.
And some details on what exactly everything is, for the curious: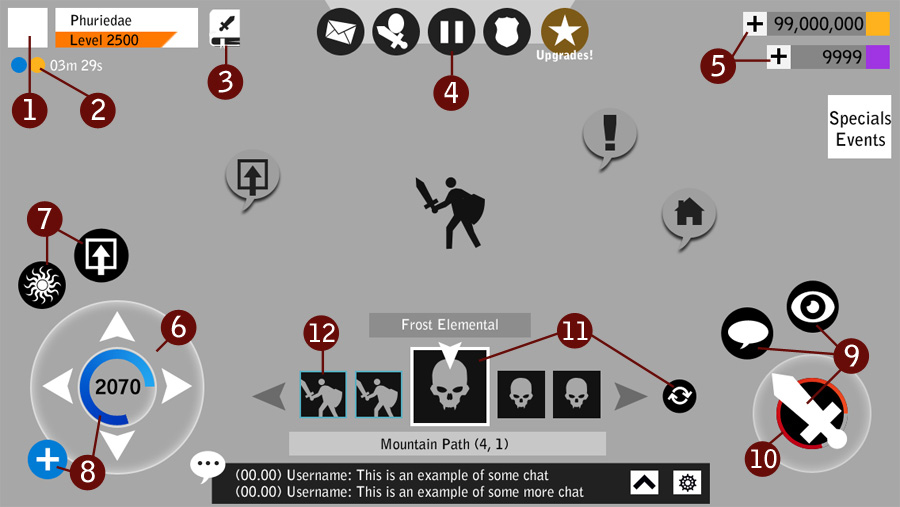 1. Your userpic, name, level and experience.
2. Time until your next gold and stamina gain.
3. Your battle log. For those of you that don't want to see every fight play out in full and plow through enemies quickly, this will record the detailed results so you can go back and view them whenever you like
4. From left to right: Messages (this will include your private messages as well as your log), Character, Menu (access everything from your current Actions and Top Rated), Guild and Upgrades.
5. Your current gold and FSP and quick buttons to add more.
6. Movement D-pad.
7. Action buttons. Some, like Instant Portal will be there permanently, while other buttons like stairways and shops will only appear when you're on a map tile with those actions available.
8. Current stamina and a button to get more quickly.
9. Attack button and actions. These will change based on whether you have a creature or player selected - for example, Chat will only appear for players, and we could potentially have a Quick Buff button here as well.
10. Equipment durability, so you can see when it's getting low.
11. Your present tile, available targets and the Refresh button. As you attack, the game will automatically target the next creature to the right, and you'll be able to swipe the list across to see how many are lurking about.
12. Other players. We won't automatically target other players, to save everyone unintended PvP incidents from spamming the attack button!
We're still working on how combat will play out but we want to make sure it's quick, fluid and fun for the veterans who like to hack through creatures as swiftly as possible, but easy to understand for FS newbies as well. The Character panel is currently in progress so we should have something more to show you soon!